NAME Award Recipients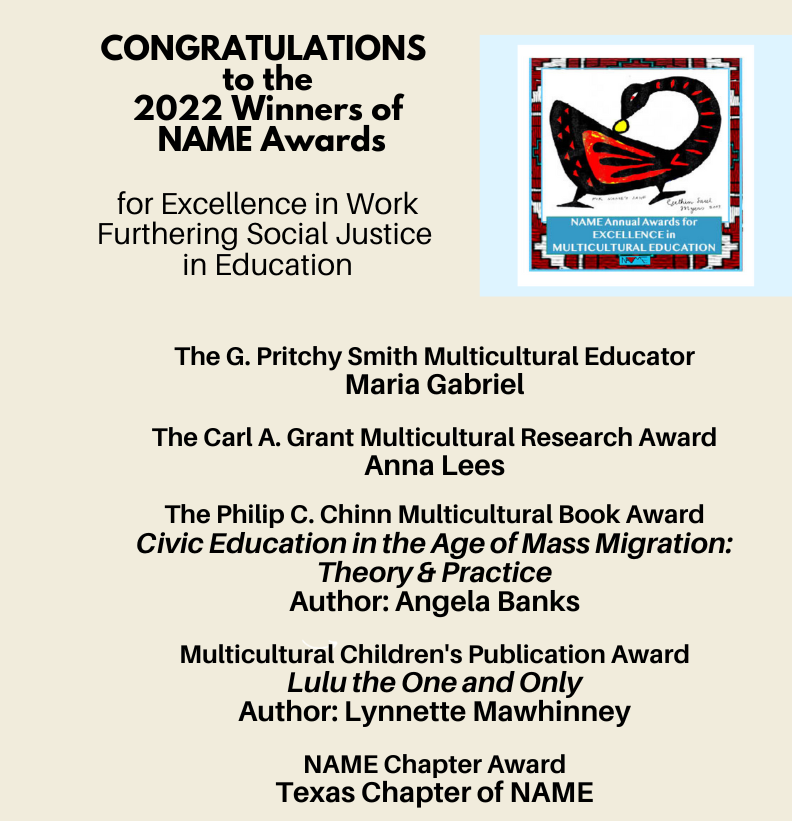 Compiled Listing of
Winners of NAME Annual Awards
G. Pritchy Smith Award: MC Educator of the Year
1994 – Geneva Gay
1995 – National Women's History Project
1995 – Jill Christianson (Regional Award)
1996 – Rethinking Schools
1997 – Sonia Nieto
1998 – Nadine Cordova and Patsy Cordova
1999 – Deborah Batiste
1999 – Valerie Ooka Pang (Regional Award)
2000 – Mary Lou Fuller
2001 – Carl Grant (Higher Education)
2001 – Evelyn Kalibala (P-12 Education)
2002 – Josefina Villamil Tinajero
2003 – Joseph Walter Scott, University of Washington
2004 – Patricia Larke, Texas A & M University
2005 – Patty Bode, Amherst Public Schools
2006 – William A. Howe, Connecticut State Department of Education
2007 – Tchet Dereic Dorman, Temple University
2008 – Enid Lee, Enidlee Consultants, Inc.
2009 – J.Q. Adams, Western Illinois University
2010 – Martha Lue Stewart, University of Central Florida
2011 – Dannè Davis, Montclair State University (NJ)
2012 – Aukram Burton, Jefferson County (KY) Schools
2013 – Jioanna Carjuzaa, Montana State University
2014 – National Award: Christine Clark, UNLV.
2014 – Local Award: Adelita Grijalva, Tucson United School District
2016 – Brandon Fox, Stephen F. Austin State University
2017 – National Award: John Raible
2017 – Local Award/Utah: Forrest C. Crawford
2018 - Laura Pena, Georgia State University
2019 – Tchet Dereic Dorman (posthumously)
2019 – Rita Robinson (posthumously)
2022 – María Gabriel, Thompson (CO) School District
Rose Duhon-Sells, Founder's Award for Outstanding Multicultural Program
1994 – Yakima Tribal School
1995 – Grow Your Own Teacher Project — Wichita Public Schools
1997 – Salem-Keizer Public Schools, Oregon
1998 – California State University, San Marcos — Middle Level Teacher Education Program
1999 – Multicultural Opportunities Branch — Kentucky Department of Education
2000 – Prince George's County Maryland (School District)
2000 – Empire Consortium (Heritage College) (Higher Education)
2001 – The New Jersey Project
2002 – Rethinking Urban Poverty: A Philadelphia Field Project
2003 – Center for Multicultural Education, College of Education, University of Washington
2004 – University of Georgia and Clarke County School District, University of Georgia–Athens
2005 – White Bear Lake Area School District's Diversity & Integration Program
2006 – PMAC – Principal's Multicultural Advisory Committee Program, Pinellas Co. Schools, Largo, FL
2007 – English Acquisition National, Claflin University
2008 – Exploring the Indigenous Ways of Knowing of the Ojibwe, Bruce D. Martin, Penn State University
2009 – Lincoln (NE) Public School, Multicultural Office, Thomas Christie, Director
2010 – E3: Educational Excellence & Equity, San Rafael CA
2010 – Local Award:
Center for Academic Enrichment & Outreach (CAEO),
University of Nevada-Las Vegas, William Sullivan
2012 – Grow Your Own Teachers – Northeastern Illinois University, College of Education, Maureen D. Gillette, Dean
2013 – National award: Maryland Education That Is Multicultural and Achievement Network (ETMA)
2013 – Local Award: Teach Tomorrow in Oakland
2014 – The ELL Center Professional Development Program Claflin University, Nan Li Director
2016 – National Award: Vincent York's JAZZistry
Local Award: Muskingum University Summer TESOL Program, Joy Cowdery, Director
2017 – Utah Valley University Inclusion Initiative
2018 - Natalie King, I AM STEM, Gerogia State University
2018 - Beverly Cross, Urban Education Graduate Certificate Program, University of Memphis
2019 –
Science Bound
, Constance P. Hargraves and Anita Rollins.
Flowers & Bullets
, bu Tio Romero and Jacob Robles
Carl A. Grant Multicultural Research Award
1994 – Christine E. Sleeter
1995 – Gloria Ladson-Billings
1996 –
American Association of University Women
1998 – Jeannie Oakes, UCLA
1999 – Luis Moll, University of Arizona
2001 – Robert Carter, Columbia University
2004 – Marilyn Cochran-Smith, Boston College
2005 – Lois Merriweather Moore, University of San Francisco
2007 – Aretha F. Marbley, Texas Tech University
2009 – James L. Moore III, Ohio State University
2010 – H. Richard Milner IV, Peabody College, Vanderbilt University
2011 – Cornel Pewewardy, Portland State University
2012 – Lamont A. Flowers, Clemson University
2013 – Thomas M. Philip, UCLA
2016 – Patricia L. Marshall, North Carolina State University
2017 – Rachel Endo, University of Washington
2018 - Celia Anderson, University of Memphis
2019 – Kevin Roxas, Western Washington University
2022 – Anna Lees, Western Washington University
Carter G. Woodson Service Award
2011 – Woodrow B. Grant, Maryland State Department (Retired)
2012 – Anaida Colón-Muñiz, Chapman University
2013 – Celina Echols, Southeastern Louisiana University
2014 – Lewis Diuguid, Kansas City Star
2016 – Rev. Frances A. Davis, University of Utah
2018 - Philip C. Chinn, UCLA (Retired)
Multicultural Film/Media Award
1996 –
Different and the Same
— Family Communications
1997 –
The Puzzle Place
— Lancit Media
1999 –
It's Elementary: Talking About Gay Issues in School — New Day Films,
Debra Chasnoff and Helen Cohen, Producers
2000 –
The Color of Fear
— Lee Mun Wah
2001 –
The Multicultural Pavilion
— Paul Gorski
2002 –
Oliver Button is a Star
— Dan Hunt
2002 –
Native Village
— Valerie Crow and Gina Boltz
2003 –
The Expanding Canon: Teaching Multicultural Literature In High School
— WNET-13 and the National Council of Teachers of English
2004 –
Picture Perfect
,
A documentary video (October 2002), Carol Tizzano, Author, Producer, Director
2005 – "As I See It" (Syndicated newspaper column in nearly 50 national newspapers) – Author: Cynthia Tucker, editorial page editor
2007 –
Echoes and Reflections: A Multimedia Curriculum on the Holocaust
– Author: The Anti Defamation League, USC Shoah Foundation Institute, Yad Vashem
2008 –
ww.EdChange.org
. Paul Gorski, George Mason University
2009 –
Vincent Who?
, Curtis Chin, Producer
2010 – eXtension Diversity Equity & Inclusion, Community of Practice, West Lafayette IN
2013
– 40 Years Later: Can We Talk Now?
Lee Ann Bell and Markie Hancock, Teachers College Press
2016 – East LA Exchange. Producer/Director: Betsy Kalin
2017 –
"Never Give Up! Minori Yasui & the Fight for Justice."
Director: Holly Yasui and William Doolittle
2018 -
Memphis 13 Film,
Daniel Kiel, Producer
Multicultural Children's Publication Award
2016 –
Will I Ever Find A Best Friend?
Author: Khampraseuth Fetters
2017 – The Peace Dragon Series. Author: Linda Ragsdale
2019 –
"Guess What? I was Adopted,"
Author: June P. Murray
2022 -
Lulu the One and Only.
Author: Lynnette Mawhinney
Philip C. Chinn Multicultural Book Award
1994 – Ron Takaki,
A Different Mirror: A History of Multicultural America
1995 – Russell M. Peters,
Clambake
1996 – Stacey J. Lee,
Unraveling the Model Minority Stereotype: Listening to Asian-American Youth
1997 – James and Cherry McGee Banks (Eds.),
Handbook of Research on Multicultural Education
1998 – Beverly Daniel Tatum,
Why Are All the Black Kids Sitting Together in the Cafeteria and Other Conversations About Race
2000 – Sarah Warshauer Freedman, Elizabeth Radin Simons, Julie Shalhope Kalnin, Alex Casareno and the M-Class Teams,
Inside City Schools: Investigating Literacy in Multicultural Classrooms
2001 – Robert Moses and Charles E. Cobb, Jr.,
Radical Equations
2002 – Joy L. Lei,
Global Constructions of Multicultural Education: Theories and Realities
2003 –
Eileen Gale Kugler
,
Debunking The Middle-Class Myth: Why Diverse Schools Are Good For Kids
2004
– Putting the Movement Back Into Civil Rights Teaching: A Resource Guide For K-12 Classrooms
, Editors: Deborah Menkart, Alana D. Murray, Jenice L. View – A Publication of
Teaching For Change
and the
Poverty &
Race Research Action Council (PRRAC)
with contributions from Rethinking Schools, 2004.
2005 – Rosa Hernandez Sheets,
Diversity Pedagogy: Examining the Role of Culture in the Teaching-Learning Process
2006
– Community and Difference: Teaching Pluralism and Social Justice,
Robert A. Pena, Kristen Guest & Lawrence Y. Matsuda, Eds. Peter Lang Pub. Inc. (2005)
2007 – Double Happiness (dual winners)
-
New Roots in America's Sacred Ground: Religion, Race and Ethnicity in Indian America
, Khyati Joshi, Rutgers University Press, 2006
- The Children Hurricane Katrina Left Behind: Schooling Context, Professional Preparation and Community Politics
, Sharon P. Robinson and M. Christopher Brown II, Peter Lang Publishing, 2006
2008 –
Black Ants and Buddhists
. Author: Mary Cowhey. Publisher: Reuters University Press, 2006.
2009 –
Reel Diversity: A Teachers' Sourcebook
. Authors: C. Brian Johnson and Skyra Blanchard. Publisher: Peter Lang, Inc. 2008.
2010 –
Muslim Voices in School: Narratives of Identity & Pluralism
. Öslem Sensoy and Christopher Stonebanks. Editors. Sense Publishers,
2011 –
Acting Out: Combating Homophobia Through Teacher Activism.
Mollie V. Blackburn, Ohio State University.
2012 –
The Latinization of U.S. Schools: Successful Teaching and Learning in Shifting Cultural Contexts.
Jason G. Irizarry. Publisher: Paradigm.
2013 –
"Becoming a Multicultural Educator: Developing Awareness, Gaining Skills & Taking Action"
, William A. Howe and Penelope L. Lisi, Sage Publications, Inc.
2014 –
"We Can't Lead Where We Won't Go: An Educator's Guide to Equity"
. Gary Howard. Publisher: Corwin Press, 2014
2016:
Whiteness Is the New South Africa.
Authors: Chris Knaus and M. Christopher Brown II
2017 –
Our Fathers: Making Black Men.
Author: Lewis Diuguid
2018 -
The Brilliance of Black Boys: Cultivating Success in the Early Grades.
Author: Bryan L. Wright
2019 –
Wiley International Handbook of Service Learning and Social Justice.
Author: Darren Lund
2019 -
Ethnic Matching: Academic Success of Students of Color.
Author: Donald Easton-Brooks
2022 –
Civic Education in the Era of Mass Migration
. Author: Angela Banks
Agency/Institution/Corporate Award
1994 - Silver Burdett & Ginn
1995 – Binney & Smith, Inc.
1996 –
Southern Poverty Law Cente
r
1997 – Institute of Texan Cultures
1998 –
The Smithsonian Institution — Center for Folklife and Cultural Studies
1999 – Children's Book Press
2002 – Eastern Educational Resource Collaborative
2004 – Teaching For Change, Washington DC
2005 –
Purdue Cooperative Extension Service
2006 – Texas Tech University, College of Education, Lubbock, TX
2011 – Jefferson CountySchools' Office of Diversity & Inclusion, Golden, CO
2012 – Teaching Tolerance: A Project of the Southern Poverty Law Center, Maureen Costello
2014 – Knight Consulting, Rhonda Talford Knight, Director
2016 – Martinez
Fellowship
Program
2017 – Best Practices Working Group for Salt Lake County. Disproportionate Minority Contact Committee
2018 - School Seed, Vincent McCaskill (President & CEO) and Sam O'Bryant , Director of Equity and Partnerships
2019 – Barbara Williams Performance Company
Equity & Social Justice Advocacy Award
2010 – Mary Hollowell, Clayton State University (GA)
2011 – Omiunota Ukpokodu, University of Missouri–Kansas City
2012 – Linda Shevitz, Maryland State Department of Education
2013 – Robert Moses, The Algebra Project
2014 ­– Richard Elias, Tucson, Arizona
2018 - Commissioner Stephanie Love, Memphis TN
2018 - Debra Mesiag
2019 – Edith Sayre Auslander
Exceptional Service to NAME
2019 – Christine Sleeter
NAME Chapter Award:
2017 – Utah NAME Chapter
2018 - Tennessee NAME Chapter
2022 – Texas NAME Chapter