NAME 2020 THEME
Living Multicultural Education: Peace & Justice thru the Ballot Box & Activism
2020 is the landmark anniversary of women in the United States going to the ballot box to vote for the first time thanks to the 19th Amendment to the U.S. Constitution. It took a near century-long struggle, much suffering, many arrests and the Women's Rights Movement growing out of abolitionism. In the early 19th century fight against slavery, women organized, spread information and protest so that their demands would be heard. For women of color, the right to vote didn't come until decades and a long struggle later. In each case, history shows that oppression and injustice are unsustainable. Once informed, people in groundswell movements strive for equity, social justice, and untethered growth. Once empowered by the success of their own activism, long-oppressed people, then as now, are empowered. It has enabled Africans brought to the Americas as slaves; Indigenous People, who suffered a holocaust of death, injury, and land loss; and women, who were treated as property, to organize and push back against the various forms of subjugation. Attempts to disenfranchise women, people of color and students continue and must be met with an even stronger, more determined effort to ensure that everyone can vote. Pooling the information of marginalized peoples' struggles and triumphs form the foundation of multicultural education. Multicultural education in this pivotal election year must serve as the North Star, guiding people of conscience and goodwill to the ballot box, where their activism and voices can be heard. The National Association for Multicultural Education (NAME) and multicultural education form the strong hand and long arm of history pushing the nation and the world to a place of peace, social justice, and equity.
As we move toward living in places of peace and justice, through the ballot box and activism, NAME and our colleagues at Teaching Tolerance encourage conversations about possible ways to address the inequities and systems that stand in the way of progress. NAME, Teaching Tolerance and our 2020 Conference Committee invite change agents in education and beyond to submit proposals for presentations to be included in our 30th annual conference. We encourage you to contribute to the conversation.
The call for proposals is open until February 29, at 11:59pm ET
Click here to jump to the Call for Proposals and the link to submit.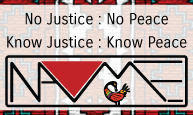 Donate Today!
Join Name ListServe
Join Today!
NAME News