#NAME2018 Welcome to Memphis
The Bluff City!

Located in the southwest corner of Tennessee (in Shelby County), Memphis has a unique character, texture, and feel like no other city in the U.S.; a legendary character that has made it the topic in more song lyrics than any other place on earth. As one of the biggest cities in the Mid-South, it occupies a key location on the Mississippi River, making Memphis a historical magnet, attracting people from all over the Delta, Mississippi, Arkansas, West Tennessee, northern Alabama, and Missouri.
The region is home to the University of Memphis, and a host of world-class higher education institutions, including the largest community college in Tennessee, many vocational and technical training facilities, and nationally ranked public and private school systems. Over the past three decades, the presence of companies like FedEx and the region's superior distribution infrastructure have earned Memphis the title "America's Distribution Center." The second largest industry is health and medicine. The Brookings Institute projects the economics of post-industrial cities will lie in education and medicine and Memphis exemplifies this reality.
A mild year-round climate supports a variety of activities. Memphis attractions include opportunities to: visit Elvis Presley's Graceland; walk in Martin Luther King's footsteps at the National Civil Rights Museum; plant one of a million trees at Shelby Farms or canoe down the Wolf River; enjoy an assortment of music on Beale Street; and stroll many of Memphis' cultural museums and Memphis Zoo. The National Civil Rights Museum and the Children's Museum of Memphis are essential sites for conference activities.
The Historic Peabody Memphis is the main conference hotel, Westin Memphis Beale Street, Memphis Marriott Downtown, the Memphis Cook Convention Center, and the FedEx Forum (located a block from Beale Street) are just a few of the significant lodging and entertainment/conference facilities in the area.
Memphis has a mix of everything. If you want history - we got it. If you want culture - we got it. If you want the outdoors - we got it. If you want music - we got it. If you want good food - we got it. If you want it all - we got it in Memphis, named the 10th Most Eccentric City by the Daily Beast for 2010 and ranked by Airbnb.com 2013 as the 6th most hospitable city in the U.S. (www.memphischamber.com)

901 Eats
You've probably heard about Memphis barbecue. We must admit, it's perfect—slow cooked rib meat that falls right off the bone, succulent pulled pork sandwiches with crispy slaw on top, and our secret barbecue sauce so good you'll be buying it by the bottle to take home. Barbecue aside, Memphis is also a foodie town full of savory delights. From fried chicken and food truck fusions to fine dining and ethnic food that will leave your mouth humming with flavors uptown, downtown, and all around town. Here are a few of our top '901' favorites in walking distance from The Peabody Memphis hotel and accessible via by Trolley that runs along S. Main Street.
And Other Exciting Places to Dine
Crosstown Concourse: https://choose901.com/crosstown-concourse/
Dining Guide: http://www.memphisdowntowner.com/dining-guide.html &
https://choose901.com/bucket-list-eats-memphis/?gclid=Cj0KCQjwn-bWBRDGARIsAPS1svtQr2tpQhlSfCQSSJaVzOq6seV_O0Nhe0ilDtMCFinJW9G_pEBN0ngaAskaEALw_wcB
MEMPHIS CULTURAL TOURS
Memphis Cheat Sheet – Must-Dos, Must-Sees and Must-Eats: http://www.memphistravel.com/cheat-sheet-must-see-do-eat
"A Tour of Possibilities" – was created to share the historical and cultural gems that African Americans have contributed to Memphis, TN: https://www.atopmemphis.com/about-us/
The Best Cultural Tours In Memphis That Go Beyond Graceland: https://theculturetrip.com/north-america/usa/tennessee/articles/beyond-graceland-the-best-cultural-tours-in-memphis/
Blues City Tours: http://bluescitytours.com/
Choose901: https://choose901.com/category/memphis-events/

WALKING CULTURAL TOURS
Dr. Martin Luther King Jr. Reflection Park: https://www.memphisflyer.com/NewsBlog/archives/2018/04/06/mlk-reflection-site-opens-downtown
I Am A Man Plaza: https://www.commercialappeal.com/story/news/government/city/2018/04/05/memphis-officials-unveil-am-man-plaza-next-clayborn-temple/488061002/
The National Civil Rights Museum at The Lorraine Motel: https://www.civilrightsmuseum.org/
Slave Haven Underground Railroad: http://slavehavenmemphis.com/
Downtown Memphis Mural Guide http://www.downtownmemphis.com/downtown-mural-guide/
Below is just one of the murals included in the Memphis Mural Guide.

This mural is by Memphis Artist, Carl Scott: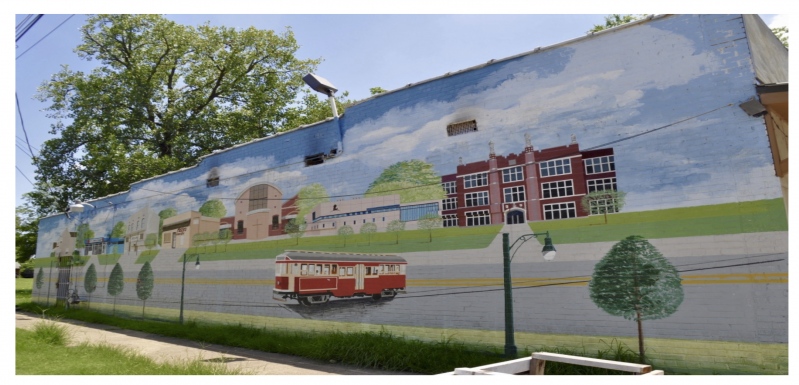 Meet Memphis Artist: CARL SCOTT
We're excited to Welcome Memphis Artist Carl Scott to NAME's Annual Conference. Be sure to visit the ongoing series he calls One, on exhibit during the conference at the Peabody Memphis Hotel, November 27-30, 2018.
The concept for the paintings began even before their inclusion in the conference; Scott's first paintings under the One theme were part of a commission for a mural of multicultural children from the University of Memphis.
Scott is originally from Arkansas and came to Memphis to attend the Memphis College of Art. Scott's love for art is reflected in the quality and quantity of work he produces because of the increasing requests to showcase his art at regional, national, and international festivals, conferences, and cityscapes.
In addition to Scott's art being display during NAME's Annual Conference, you don't want to miss the walking tour that includes his city murals painted in and around greater Memphis: Optimum Studios, 726 North Parkway, Memphis, TN 38105, and At Gaisman, 4221 Macon Road, Memphis, TN 38122.
Finally, NAME invites you to participate in the special silent auction that will feature one of Carl's paintings.