Institutes & Museum Experience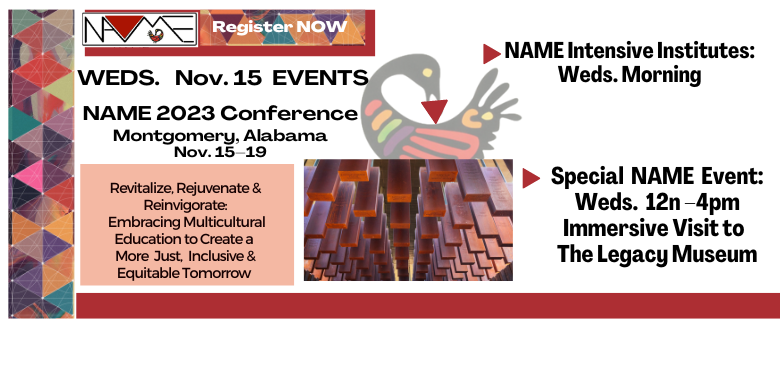 NAME Conference Events:
Wednesday, Nov. 13th
Intensive Institutes & Immersive Museum Experience
Prior to the conference's official opening the evening of Wednesday, November 15th, Wednesday morning will again offer a selection of longer sessions. Our annual Intensive Institutes offer in depth sessions with leading NAME scholars and activists, requiring pre-registration and a small fee.

Wednesday afternoon will offer all interested members an Immersive Museum experience at the Legacy Museum & National Monument for Peace & Justice. Details below.

Cost for all Institutes: $20 per session for members and $30 per session for non-members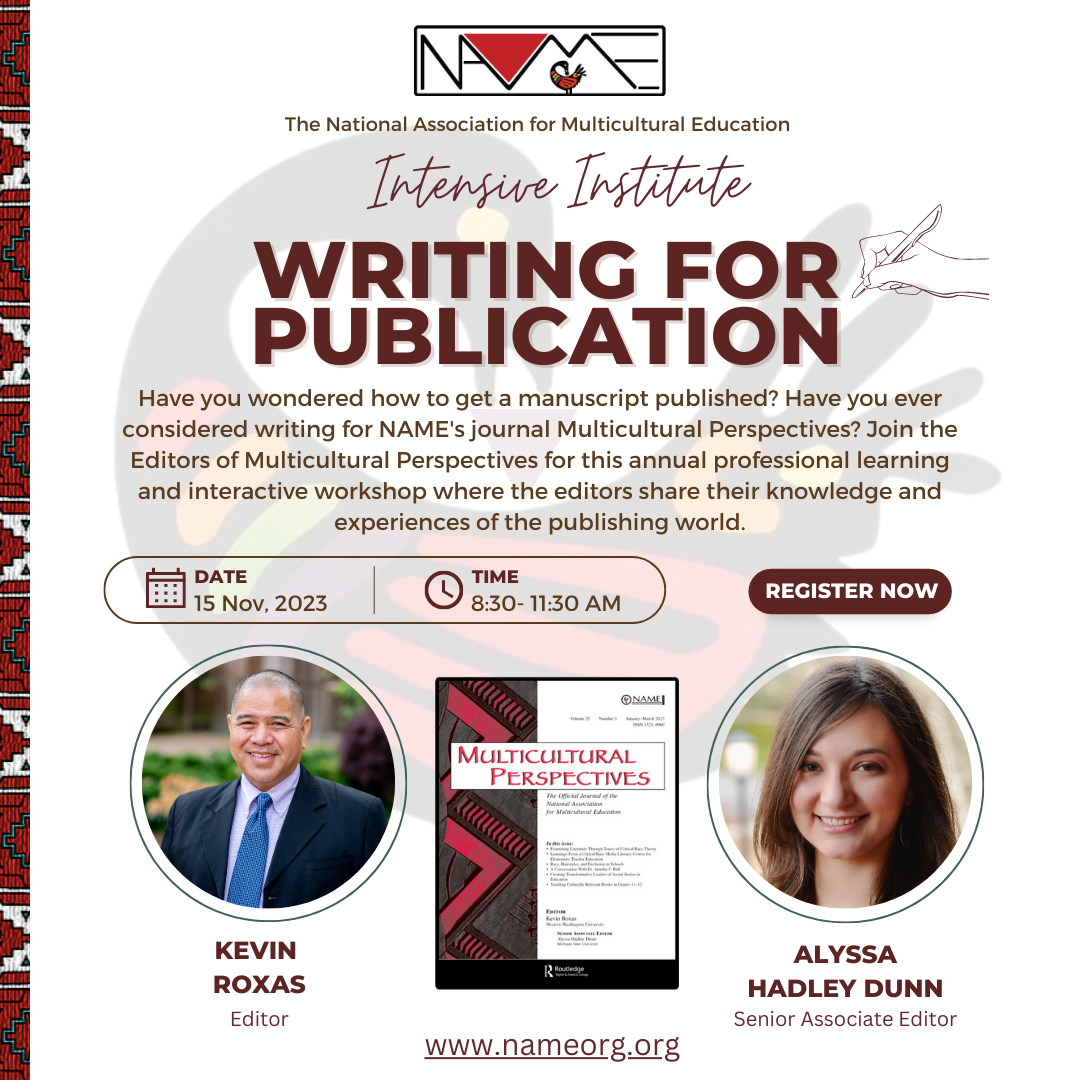 Institute #1:
NAME'S Writing for Publication with Multicultural Perspectives Editors Kevin Roxas & Alyssa Dunn
Time: Weds. November 15, 9:00 a.m. - 11:30 a.m.
Presenters: Editors of NAME's Journal Multicultural Perspective: Kevin Roxas & Alyssa Dunn
This institute is designed to assist anyone interested in publishing in professional journals or other related publications, in the field of multicultural education. The session is particularly beneficial to graduate students and junior faculty. During this interactive workshop, participants will learn about the process of writing for publishing from the NAME editor's perspective. Topics to be covered include getting started (selecting appropriate journals, turning dissertations into articles, etc.), the submission and review process, and the relationship of publishing to tenure. Participants should be prepared to share and discuss their article ideas. Participants will receive an extensive package of materials to support their work towards becoming published authors.
-------------------------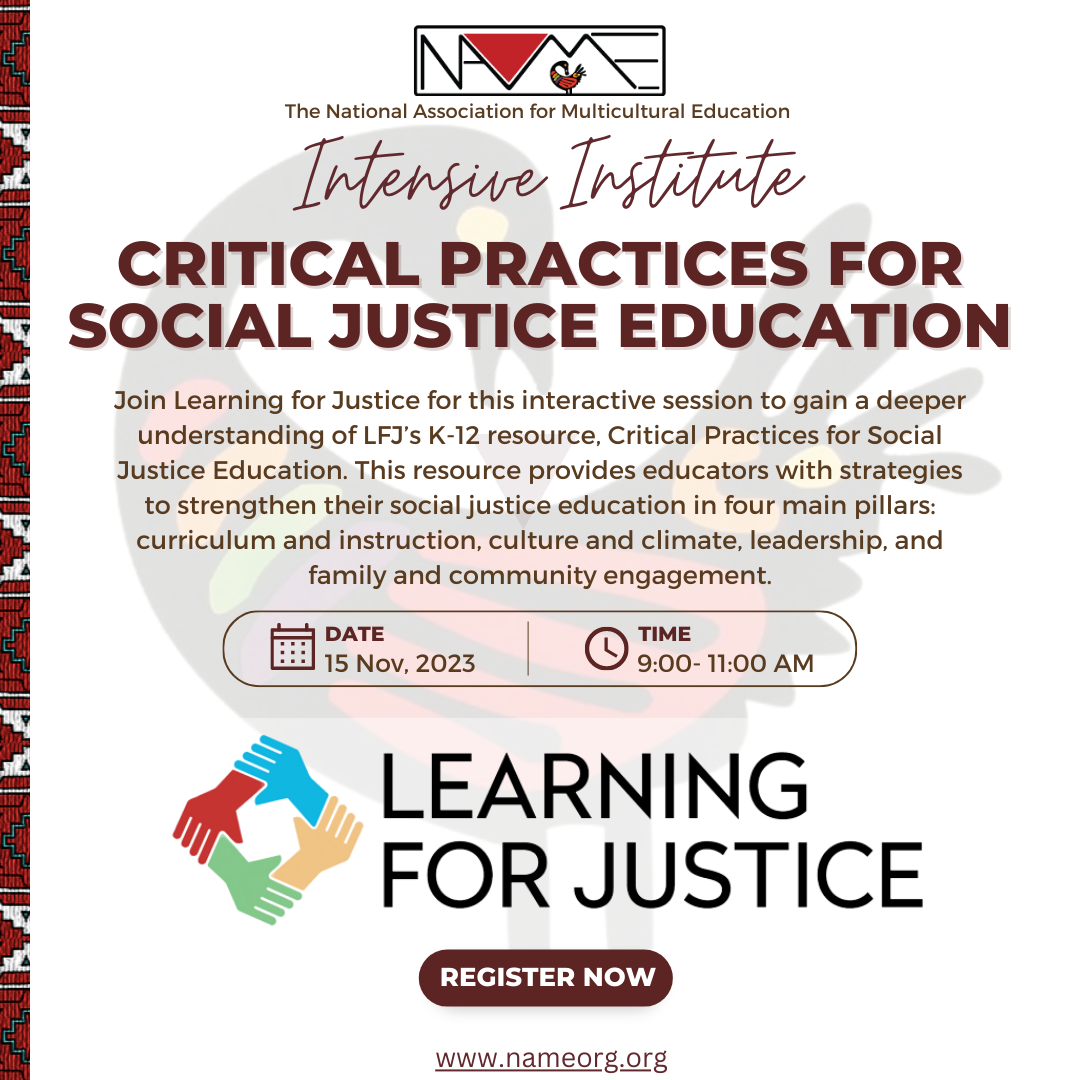 Institute #2: Critical Practices for Social Justice Education
Learning for Justice Intensive Institute,
Time: Weds. November 15, 9:00 a.m. - 11:00 a.m.
Join Learning for Justice (formerly Teaching Tolerance) for this interactive session to gain a deeper understanding of LFJ's K-12 resource, Critical Practices for Social Justice Education. This resource provides educators with strategies to strengthen their social justice education in four main pillars: curriculum and instruction, culture and climate, leadership, and family and community engagement. Critical Practices is a foundational resource for K-12 educators who are interested in understanding their connections to social justice education and implementing these principles into their practice. In this interactive learning experience, educators will dig into actionable ways they can support all of their students by creating classrooms, schools and communities that value and uplift their identities, cultures, and leadership skills. Whether educators are at the beginning of their journey towards social justice education, or they have been engaged in this for decades, this session can provide ways for every educator to strengthen their practice. Critical Practices for Social Justice Education provides differentiated approaches that help educators push back against the status quo and re-imagine what's possible for students, schools and communities in our diverse democracy.

-------------------------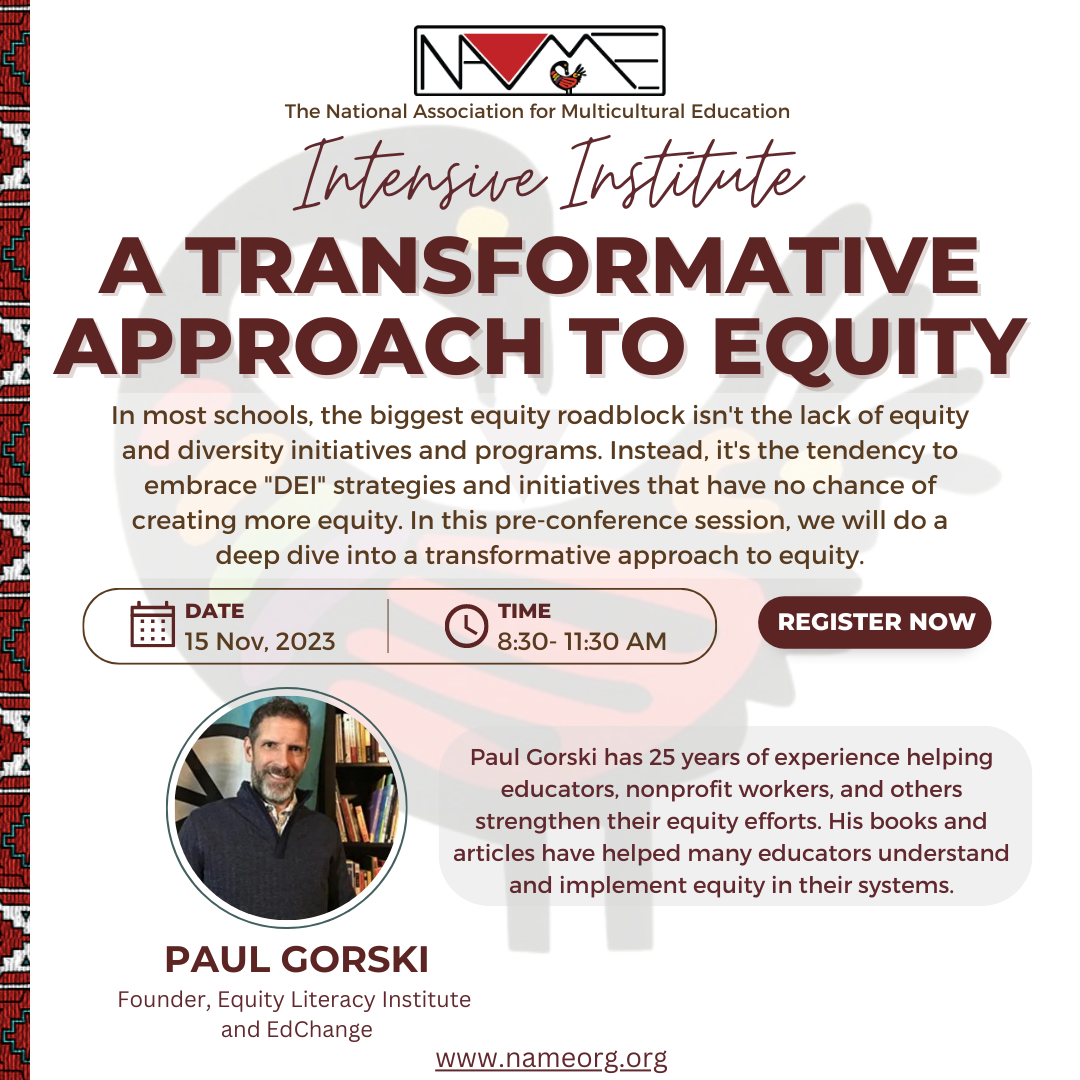 Institute #3:
A Transformative Approach to Equity: From Baby Steps to Big Justice Leaps
Presenter: Paul Gorski, founder, Equity Literacy Institute
Time: Weds.November 15, 8:30 a.m. - 11:30 a.m.
In most schools, the biggest equity roadblock isn't the lack of equity and diversity initiatives and programs. Instead, it's the tendency to embrace "DEI" strategies and initiatives that have no chance of creating more equity. In this pre-conference session, we will do a deep dive into a transformative approach to equity. We will talk about common detours: the things schools do in the name of equity that perpetuate inequity. Then we will pivot to basic principles for deep, transformative equity. Our primary goal is to talk about how to shift from little mitigative "baby" steps that are high on equity optics but low on equity impact to big equity leaps that are institutionally transformative and based on a commitment to creating and sustaining just learning environments.
-------------------------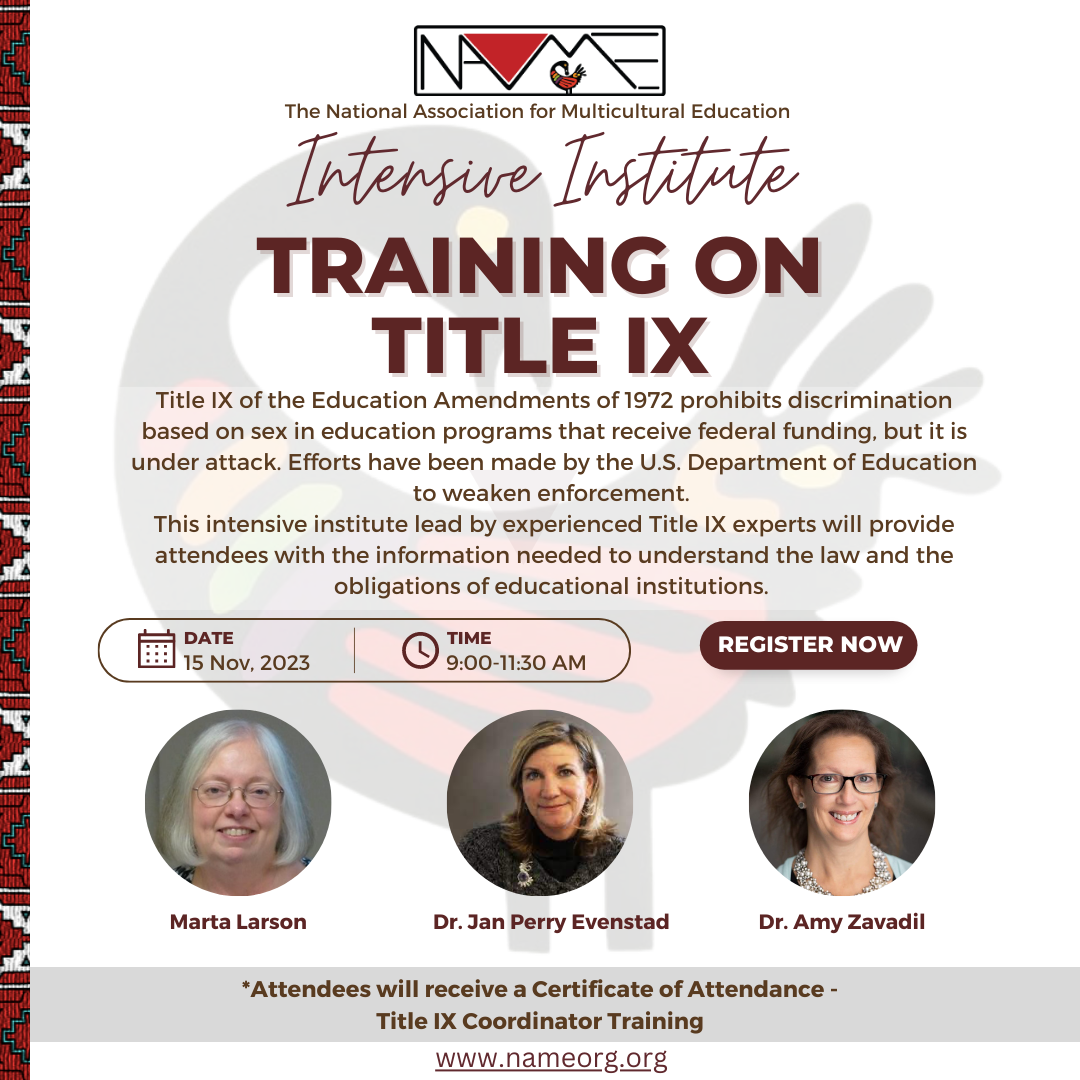 Institute #4:
Intensive Training on Title IX
Time: Weds. November 15, 9:00 a.m. - 11:00 a.m.
Presenters: Jan Perry Evenstad, Professor Emeritus of Secondary Education, Metropolitan State University of Denver, former Director of the Western Educational Equity Assistance Center, Metropolitan State University of Denver, ATIXA Advisory Board Member; Marta Larson, Educational Equity Consultant, former Program Manager at the Programs for Educational Opportunity Equity Assistance Center, University of Michigan; Amy Zavadil, Consultant, ATIXA Advisory Board Member, former Equity Compliance Officer University of Dayton
Title IX of the Education Amendments of 1972 prohibits discrimination based on sex in education programs that receive federal funding, but it is under attack. Efforts have been made by the U.S. Department of Education to weaken enforcement.
This intensive institute lead by experienced Title IX experts will provide attendees with the information needed to understand the law and the obligations of educational institutions. This institute should be of special interest to anyone functioning as or are interested in being a Title IX Coordinator. Attendees will receive a Certificate of Attendance - Title IX Coordinator Training
Topics covered include: Title IX and other relevant laws, Requirements of Title IX, Duties of a Title IX Coordinator, Defining Sexual Harassment, Pregnant & Parenting Students, Transgender Students, Athletics, Single Sex Schools & Programs, Conducting an Effective Title IX Investigation and Writing a Title IX Investigation Report.
-------------------------

-------------------------
Wednesday, Nov. 15 AFTERNOON, 12noon – 4pm
An Immersive Experience in
the LEGACY MUSEUM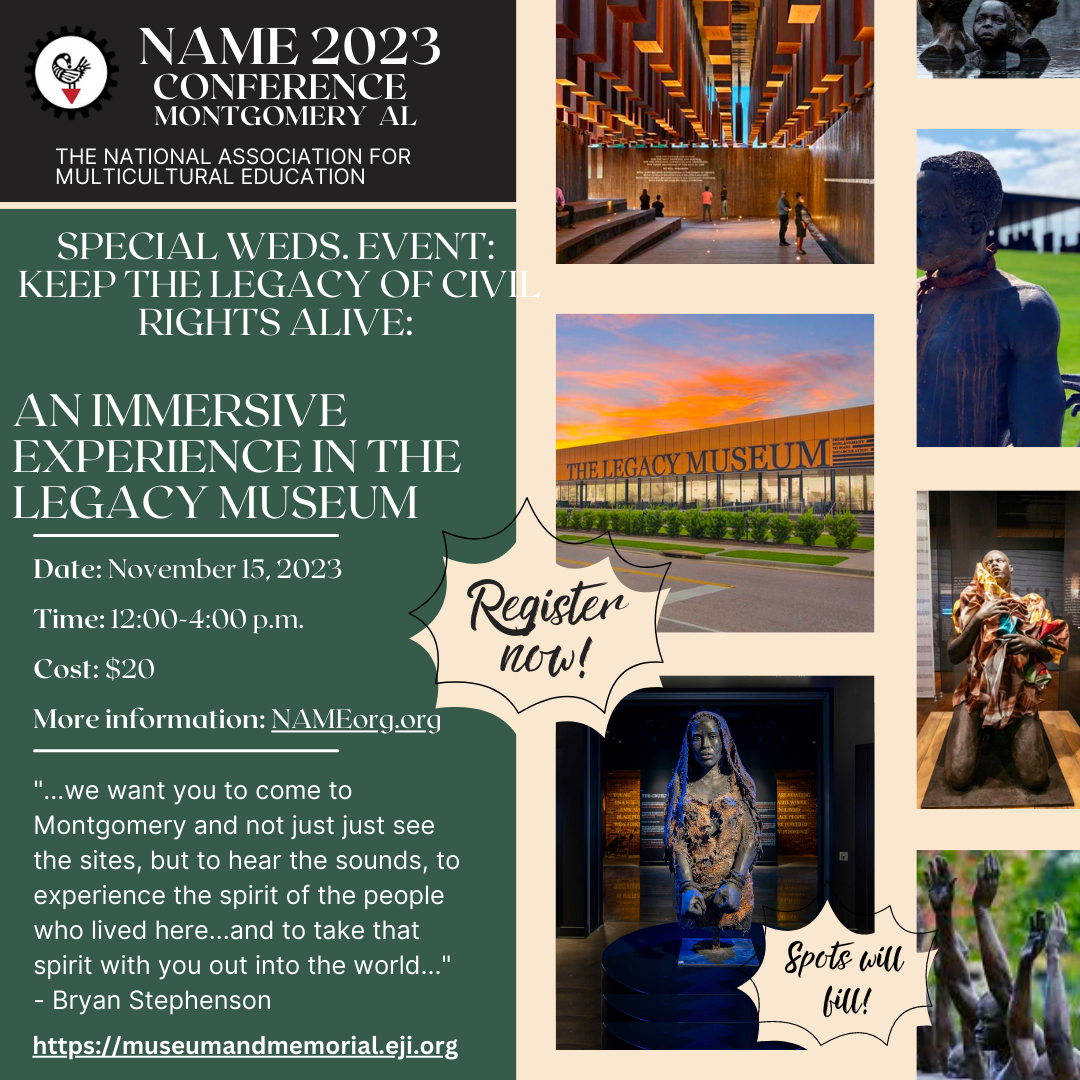 NAME members will have a special opportunity
to experience together Montgomery's famous
Legacy Museum
&
National Monument to Peace & Justice
Donation to Museum: $20 for members / $30 non-members
The Legacy Museum provides a comprehensive history of the United States with a focus on the legacy of slavery. From the Transatlantic Slave Trade and its impact on the North and coastal communities across America through the Domestic Slave Trade and Reconstruction, the museum provides detailed interactive content and compelling narratives. Lynching, codified racial segregation, and the emergence of over-incarceration in the 20th century are examined in depth and brought to life through film, images, and first-person narratives.

Situated on a site where enslaved Black people were forced to labor in bondage, the Legacy Museum offers an immersive experience with cutting-edge technology, world-class art, and critically important scholarship about American history.
Along with the critically acclaimed National Memorial for Peace and Justice, the museum presents a unique opportunity for visitors to reckon with challenging aspects of our past. A Transatlantic Slave Trade wing includes more than 200 sculptures and original animated short films narrated by award-winning artists Lupita Nyong'o, Don Cheadle, and Wendell Pierce.
Visitors will hear first-person accounts from descendants of lynching victims and witnesses to lynching violence and learn about the heroic effort to challenge lynching violence that was led by Ida B. Wells and student activists who protested against lynching for years.

A stunning exhibit containing 800 jars of soil collected around the country as part of EJI's Community Remembrance Project is a unique and powerful display of the growing community response to reckoning with this painful past.

As a physical site and an outreach program, the Legacy Museum is an engine for education about the legacy of racial inequality and for the truth and reconciliation that leads to real solutions to contemporary problems....

Visit Equal Justice Institute site: https://museumandmemorial.eji.org/museum
More about The Legacy Museum.
...The Jim Crow era and the courageous movement to confront racial segregation is presented with an extensive exploration of the Montgomery Bus Boycott and the work of legendary civil rights activists. The iconography of Jim Crow is dramatically presented in a collection of actual signs and notices collected from around the country. EJI also compiled laws and statutes that codified racial apartheid in America for visitors to read and experience.
Barriers to voting for Black people are featured in the museum as a central component of how equal rights were undermined throughout this era. Visitors can take a poll test and experience how these arbitrary and humiliating tests were used by local officials to disenfranchise Black people.
A wing on mass incarceration features more voices of people who have been wrongly condemned, unfairly sentenced, and unjustly treated in the American legal system. Visitors will learn about the plight of children prosecuted as adults, people with mental illness, people experiencing poverty, and those suffering brutal conditions in some of our nation's prisons and jails.
The Reflection Space honors hundreds of people who worked throughout their lives to challenge racial injustice. In a grand space that features music and powerful images, the history of struggle inspires all to reflect on what we can do to make a difference.
The Legacy Museum includes a world-class art gallery with major works from the most celebrated Black artists in the country, including Glenn Ligon, Elizabeth Catlett, Alison Saar, Gordon Parks, Jacob Lawrence, Faith Ringgold, Deborah Roberts, Nelson Makamo, Carrie Mae Weems, Whitfield Lovell, Kwame Akoto-Bamfo, Sandrine Plante, Paul Briggs, Titus Kaphar, Romare Bearden, John Biggers, Dawn Williams Boyd, Kay Brown, Yvonne Cole, Simone Leigh, and the extraordinary vernacular artist Winfred Rembert.
The gallery includes pieces created specifically for the Legacy Museum, and its entire collection is curated in dialogue with the museum's historical narrative. Collaborations with Wynton Marsalis, Jon Booz, Lil Buck, The Aeolians, Chrystal Rucker, and Brandie Sutton explore the role of music and dance in understanding our nation's history and the role of the arts.