2016 NAME Award Winners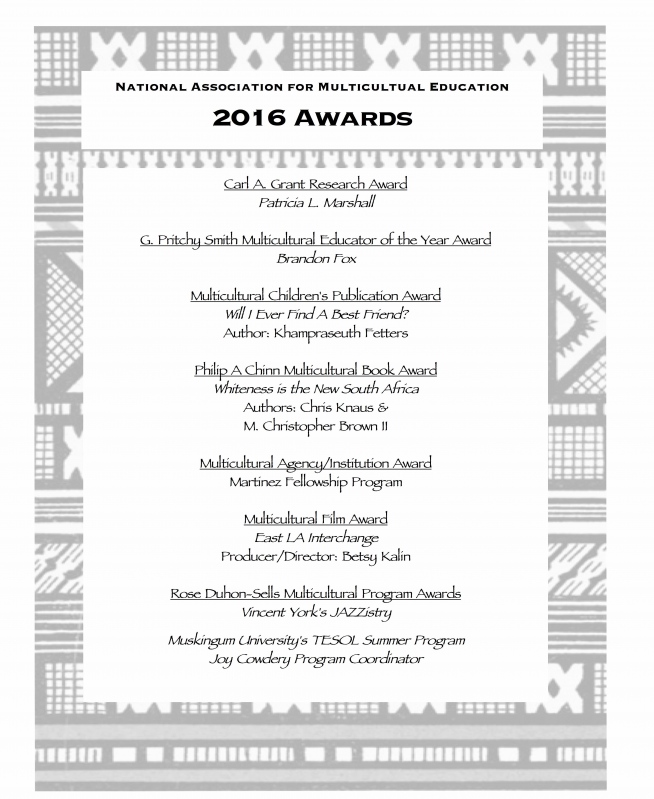 .
NAME 2016 Annual AWARD Winners
Carl A. Grant Research Award
Patricia L. Marshall, North Carolina State University
Dr. Patricia L. Marshall is a Professor in the Department of Teacher Education and Learning Sciences at North Carolina State University where for over 25 years she has taught courses in multicultural education. She was inducted into the NC State University Academy of Outstanding Teachers, and she has been a multiple nominee for other teaching excellence honors including Alumni Distinguished Undergraduate Professor and Board of Governors Teaching Excellence Award. Professor Marshall is listed in the Harvard Graduate School of Education Honor Roll of Teachers. Among the various venues where her work appears are Journal of Teacher Education, Journal of Educational Research, Multicultural Perspectives, The Educational Forum, and the International Journal of Multicultural Education. Her books include Cultural Diversity in Our Schools and When Critical Multiculturalism Meets Mathematics. Professor Marshall is a Fulbright Scholar; she served as a Visiting Professor at the Universidad San Francisco de Quito in Cumbayá, Ecuador.
G. Pritchy Smith Multicultural Educator Award
Brandon Fox, University of Texas
Brandon Fox is Associate Professor of Elementary Education at Stephen F. Austin State University in Nacogdoches, Texas. He is also the director of the Elementary Master's Degree Program at SFASU. Brandon graduated with his Ph.D. from Texas A & M University in 2011.
Brandon has taught at SFASU since 2012 and has already made a significant impact on his students. He challenges his students to think about why they hold the beliefs that they do and how these beliefs could serve as oppressive or emancipatory forces. Dr. Fox is skilled at getting students to thoughtfully discuss topics that are often uncomfortable for them to think about let alone share ideas in a conversation. He values the diversity of perspective and experience his students bring with them to his classroom. He is able to foster an emancipatory environment where his students can openly share their ideas in a safe space. Dr. Fox successfully blends theory and practice to develop awareness, acceptance, and affirmation of diversity.
He has a strong history of scholarly commitment to multiculturalism and multicultural education as evidenced by his dissertation research that examined mathematics achievement across race/ethnicity, gender, and socioeconomic status demonstrating an early commitment to diversity. He continues addressing matters of diversity and multiculturalism in his current research. His professional membership in scholarly organizations further attests to his commitment to multiculturalism and diversity. He belongs to numerous special interest groups in AERA that are evidence of his commitment especially from a critical perspective.
Multicultural Children's Publication Award
"Will I Ever Find a Best Friend?"
Khampraseuth Fetters
(Khampraseuth Fetters Publisher, 2015)
Khampraseuth Fetters is a second grade teacher at Columbus School for Girls. She has 20 years as a classroom teacher and is one of the most requested teachers at her school because of her ability to teach and model inclusiveness, empathy, and compassion. She also serves on the school Inclusion, Diversity, Equity, and Advocacy Committee. She lives in Bexley, Ohio with her husband who is a high school teacher. They have two daughters, freshman at Miami Univeristy of Ohio and a junior in High School.
"Will I Ever Find a Best Friend?"
applies to children of all ages; even caretakers, counselors, teachers, and any persons who interact with children. It is a children's book that addresses social situations among friends that has the capability to escalate to create anxiety. The book encourages discussion about inclusion and exclusion and learning to be sympathetic and empathetic toward others. Social anxiety is an issue regardless of socio-economic/ race/religion/gender/ ethnicity. The author's hope with prompted questions inside the book, they will serve as a reflective tool for readers to be proactive and empowers them to find their own voice as well as become independent thinkers and problem solvers. With guidance, the discussion could lead to more than socio-economic/ race/religion/gender/ ethnicity.
Philip C. Chinn Book Award
"Whiteness is the New South Africa"
Chris Knaus and M. Christopher II
(Peter Lang, 205)
"
Whiteness is the New South Africa
", written by Chris Knaus and Christopher Brown is this year's recipient of the Philip C. Chinn Book Award. The book highlights the drastic racial disparities in and around Cape Town based on three different sets of studies. Knaus and Brown's research suggests educational apartheid continues and may serve to further bolster impoverished communities of color. The book details how the intellectual, emotional, and economic development of South African youth is stifled at the same time the country invests in White children.
The book is an original work based on the authors' research. The topic is appealing to a wide variety of academics such as educators, sociologists, geographers, and historians. It is also appealing to P-12 teachers, educational policymakers, governors, and more. Moreover, it creates interest in multicultural issues because it is a different lens through which to view South Africa. Much research on South Africa speaks only to the abolition of apartheid rather than dealing with the harsh realities of a lingering oppression.
Whiteness is the New South Africa certainly contributes to the development of multicultural education. It adds to the knowledge base especially since it addresses a rarely discussed take on South Africa. It informs policymakers on how to and not to approach equitable education policy and practices. Furthermore, it has the potential to foster personal growth as readers may reflect on their beliefs and ideas about quality and equitable education.
Chris Knaus is Professor of Education at the University of Washington Tacoma. He is a respected race scholar, educational practitioner, and community advocate. Chris is committed to the non-standardization of schools, cultures, and public spaces. M. Christopher Brown is Executive VicePresident and Provost of the Southern University System. He is an international scholar known for his studies of historically black colleges, university governance, educational equity, professional responsibilities, and institutional contexts.
Multicultural Agency/Institution Award
Martinez Fellowship Program
The Martinez Fellowship Program is operated by the Technology Access Foundation (TAF). Martinez Fellows are people of color who have been accepted into one of our six partner university master in teaching programs. The Martinez Fellowship helps fellows pay for their master's degrees. Each fellow makes a commitment to teach in a Washington school with a high minority, high poverty population for at least three years. While in their teacher education preparation programs, the Martinez Fellowship supplements their traditional teacher education curriculum with instruction and professional conversations specific to the needs of Martinez Fellows. We collaborate with a host of education professionals and partners to meet the relevant needs and areas of interest that Fellows surface as they grow as educators. As a connected network of teachers of color, our Fellows offer support to each other throughout their teaching experience to improve their retention.
Multicultural Film Award
East LA Interchange
Producer/Director: Betsy Kalin
Betsy Kalin runs Itchy Bee Productions, a production and distribution company specializing in high-quality films that entertain, educate and inspire. She received a BA in Women's Studies from Columbia College at Columbia University and an MFA in Directing from the University of Miami. Her feature-length documentary, Hearts Cracked Open, premiered to great acclaim at the San Francisco International LGBT Film Festival and has won several awards. Her film, Roof, premiered at New York City's MoMA for New Directors/New Films and is a part of the Short Shorts compilation. She produced and wrote the feature documentary Before Homosexuals, and she also researched and directed Of Revolutionaries and Pioneers for WGBY/WGBH. In 2010 she made Chained!, a short documentary that screened in festivals around the world, and in 2013 produced the award-winning film Click. Her recent documentary East LA Interchange has won ten jury and audience awards to date.
Rose Duhon-Sells Multicultural Program Awards
Vincent York's JAZZistry
JAZZistry is an original word, capturing the dynamic educational concept invented by virtuoso musician, Vincent York: JAZZistry = Jazz + History + Artistry. JAZZistry's favorite audiences are in K-12 schools where the program is integrated into the curriculum and teachers' instructional plans for the semester or year. The group has presented to over 300 Michigan k-12 schools. The showpiece of JAZZistry is the Band Performance, when York and his band of five acclaimed musicians deliver a multimedia performance. JAZZistry takes audiences through a musical historical tour of 400 years of American culture and history, beginning in Africa and coming up to Hip Hop. They demonstrate the evolution of American music that parallels so many aspects of American culture, shaped by the diverse cultures who came together in the Americas, and becoming something uniquely American. The fast-paced program crosses both centuries and continents, turning school auditoriums into multicultural musical time machines.
Muskingum University's TESOL Program Coordinator
Joy Cowdery
Reflecting the Multiple Facets of Diversity
Dr. Joy Cowdery, Distinguished Professor of Education at Muskingum University, Ohio, teaches Diversity Education, has published books, professional journals and presents at numerous professional organizations. She is a reviewer for the International TESOL Journal and International Journal of M.ulticultural Education. She is the director of Multicultural Education Initiatives at Muskingum University and coordinates the TESOL program.
This nomination for The Rose Duhon-Sells Program Award is for Joy Cowdery's Muskingum University's TESOL Camps which are conducted around the state of Ohio each summer. For the past 10 years, Muskingum University has conducted summer camps for Pre-K to adult English language learners (ELLs) in rural and urban Ohio settings. The camps were established through the collaborative efforts of a local school district and the university. In Dover and Orrville, Ohio, immigrant students from Guatemala and South America, refugee students from Somali and other African nations in Columbus, and refugee students from Nepal, Burma, and Bhutan in Cleveland and Lakewood, Ohio, and Porta Rican students in Youngstown were taught English and academic skills to better prepare them for the expectations of American schools. The teachers in these camps, who were already licensed teachers in other fields, were learning from Licensed TESOL teachers how to work with immigrant ELL students. The purpose was to create in the teachers a disposition to empower not only the ELLs, but also their families through advocacy, which is very supportive of the mission and goals of NAME. It addresses the needs of a very diverse minority of immigrant students while at the same time expands the knowledge of teachers who tend to be very mono-cultural since the latest studies show that over 90% of all US teachers are both white and middle class (www.ncei.com, 2005).